Information
Manufacturers
Payment Terms
Weighton Coin Wonders - Terms of Settlement
Weighton Coin Wonders expects to receive payment for any order placed within 3 Days (3 working days) unless prior agreement is obtained. We reserve the right to cancel any order not paid for within this timescale, and sell the ordered goods to another buyer.
In these fast changing markets, we can not hold bullion/precious metals orders at agreed prices after this timescale.
We will agree to inform the customer by email of the intended cancellation of any order 1 day prior to cancellation, and orders will be cancelled the following day after this if no contact is made.

We accept payment by the following methods:
Bank Transfer UK - Bank Transfer International - Bank Transfer in Euro
Details are supplied during checkout based on your chosen payment method, and again on your order confirmation. You are very welcome to call us to confirm the details supplied if you have any doubts.

Personal Cheque - Due to recent problems with banks and cheque payments, we regrettably no longer accept cheques as a payment method UNLESS you have a client history with us using this method of payment.
Business Cheque - As above
Debit & Credit Card Payments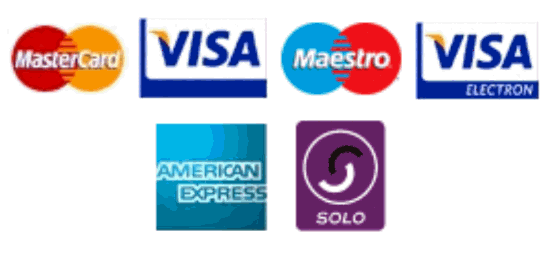 We accept payment through most of the Major Debit cards - Visa, Mastercard, Maestro Domestic, Visa Debit, Electron, American Express. Unfortunately we are unable to accept Maestro International on 'Cardholder Not Present' transactions.
We accept payment via Debit cards (limits apply), but Credit Cards are only accepted for smaller purchases (up to £100.00) at our retail premises. There is NO CHARGE for Debit Card payments.
PLEASE NOTE: From January 2018, in view of the new legislation that came into force outlawing surcharges for card payments, we will no longer be accepting payment via CREDIT cards for orders via mail order & telephone..
SPECIFIC TERMS FOR CARD PAYMENTS
PLEASE NOTE: Credit Card payments will not be accepted for Gold or Silver Bullion orders , and debit card payments are subject to a limit of £200.00 for UK customers (we may up this limit by prior arrangement for long established existing clients with a client history of 2 years +, but this is at the sole discretion of the directors). If in doubt please feel free to call us before placing your order.

OVERSEAS CUSTOMERS - Unfortunately, due to new regulations we no longer accept credit card payments for any on-line or mail order purchases. Due to postal restrictions, orders over £500.00 may require additional postage charges to cover insurance and sending orders in more than one parcel. Customers will be notified for agreement before any order is processed.

All card transactions will be put through an authorisation process. This may involve a data verification check with our card processors who will refer to the relevant card issuer or a data checking company.

To comply with money laundering regulations, orders may require further evidence of identification, especially on Gold sales.

We totally reserve the right to decline any order where payment is to be made via cheque or debit/credit card, if we are not satisfied as to the validity of the transaction, or for any other reason as we deem necessary. Details and reasons will not be disclosed as it is our sole right to refuse an order should we decide to do so.

Payment by CREDIT card for in store purchases under any circumstances will not be accepted for orders with a value exceeding £100.00 in one order, or £500.00 per customer/household in any 12 month period.

We will also decline orders where credit card payments are split over several cards to circumvent our payment terms. This includes single cardholders or multiple cards from the same address / household, or where we suspect an order is from the same source.

For all clients , DEBIT card payments will be accepted up to a maximum of £200.00 in any one transaction, and for those with a client history of less than six months and we reserve the right to limit further the amount of debit card payments within the first six months of dealing with us. This will of course be reviewed on an individual basis as necessary.

Should a card payment be declined, we will require payment for that order via an alternative method eg. cheque or bank transfer. We will not accept a different card as an alternative method, should the first be declined again unless you have a client history with us.
50 Market Place, Market Weighton, YORK. YO43 3AL
Please feel free also to phone on
01430 879740 / 07905 467650
or email to enquiries@weightoncoin.co.uk
We can then assist you in person - ask for Richard or Carolyn
More Information
Who's Online
There currently are 77 guests online.
Your IP Address is: 3.238.24.209