COIN FAIRS
In view of the ongoing COVID pandemic, we will keep this page updated with any developements, regarding cancellations etc.
We regularly attend some of the Coin Fairs across the country. Why not come and discuss your numismatic requirements in person.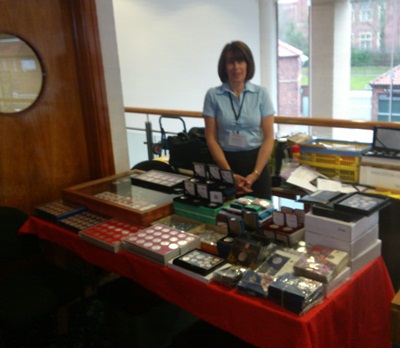 We will be in attendance with a selection of coins at the following fairs:

YORKSHIRE COIN FAIR – Cedar Court Hotel, HUDDERSFIELD (last Sunday of every Month)
2022 Fairs - 30th January, 27th February, 27th March, 24th April, 29th May, 26th June, 31st July, 28th August, 25th September, 30th October, 27th November.
All at the Cedar Court Hotel, HUDDERSFIELD.
MIDLAND COIN FAIR (Birmingham Motorcycle Museum)
2022 - 13th March, 12th June, 11th September , 11th December
YORK COIN & STAMP FAIR – The Grandstand, York Racecourse
Next Fair –
21st - 22nd January 2022
15th & 16th July 2022
Why not give us a visit if you are in the area, or out and about.

50 Market Place, Market Weighton, YORK. YO43 3AL
Please feel free also to phone on
01430 879740 / 07905 467650
or email to enquiries@weightoncoin.co.uk
We can then assist you in person - ask for Richard or Carolyn